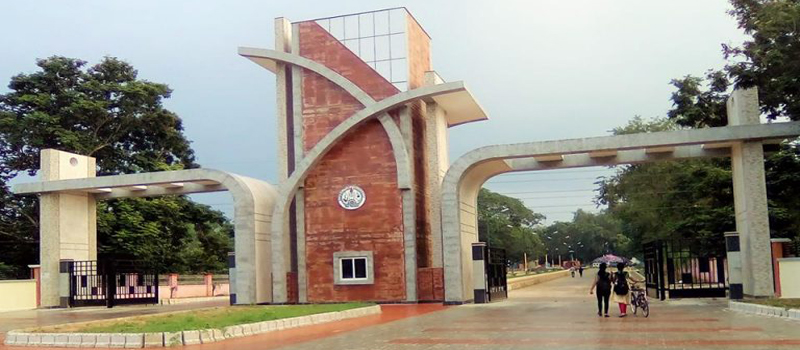 The Sambalpur University, the only one situated in Western Odisha, started functioning from 1st January, 1967 with Prof. Parsuram Mishra as the first Vice-Chancellor. The Sambalpur University Act was passed by the Odisha Legislature on 10th December, 1966 to fulfill long cherished dream of the people of Western Odisha for establishment of a University The University was inaugurated on 4th January, 1967 by Hon'ble Chancellor A.N.Khosla. The University started functioning in 1967 in a rented private building at Dhanupali, Sambalpur and in Government building at Ainthapali, Sambalpur from 1968 to 72. In the year 1973 the University was shifted to the present campus named Jyoti Vihar at Burla, Sambalpur and located on the right side of foothills of the world-famous Hirakud Dam. It has been accredited with grade 'A' by NAAC (2nd Cycle). The university is surrounded by dense forest and hills. This campus is very natural and beautiful. One can enjoy the green scenery during winter and rainy seasons.
The territorial jurisdiction of the University covers 10 districts of the state of Odisha namely Sambalpur, Sundargarh, Jharsuguda, Deogarh, Bargarh, Balangir, Subarnapur, Nawapara, Kalahandi, Boudh and Athamallik Sub-Division of Angul District.
The University at Jyoti Vihar provides medical(Allopathic) education through its affiliated medical colleges, namely, Veer Surendra Sai Institute of Medical Sciences (VIMSAR), Burla, one private medical college at Rourkela (Hi-Tech Medical College) the new upcoming Government Medical College, Balangir.
Chancellor
Prof. Ganeshi Lal
Governor of Odisha,
Raj Bhawan
Bhubaneswar, Odisha.
Health Secretary:
Smt. Shalini Pandit,
Commissioner-cum-Secretary,
Health & FW Dept., Govt. of Odisha, Bhubaneswar
Email-orihealth@nic.in
Tel-0674-2323860
Fax-0674-2390674
Vice Chancellor
Prof. Bidhu Bhusan Mishra
Sambalpur University
Tel: 91-663-2430158 (O)
E-mail: vc@suniv.ac.in
DMET, Odisha:
Prof. Sachidananda Mohanty
Odisha, Bhubaneswar
Email–dmetbbsr4@gmail.com
Tel:0674-2393847
Fax–0674-2391814
Registrar
Dr. Nruparaj Sahu
Sambalpur University, Jyoti Vihar, Burla,
Sambalpur, Odisha- 768019
Tel: 91-663-2430157 (O) Fax:0663-2430158
E-mail: registrar@suniv.ac.in